There are many reasons why some people can no longer keep their animals with them. There are reasons among them that are not to be dismissed out of hand and are sometimes tragic. What they have in common is that they are understandable in any case, here are some examples:
But there are also reasons that are difficult or impossible for us to understand, this is also very often in the realm of possibility, here are a few examples as well.
We do not condemn these owners. We are concerned about the welfare of the animal. Therefore, we take the animals into our care and prevent them from being abandoned or having to live an unloved life.
Prerequisites for an admission are that we have a suitable place in one of the groups. Even though our capacities are not always completely full, we will only take in cats if we can accommodate them in such a way that we can take responsibility for both humans and animals.
Of course, we only take in cats that do not pose a health risk to the others, hence the preliminary examination. And finally, the owner must confirm his ownership, hand over the documents (vaccination book, etc.) and sign a written contract.
Whom the costs deter: Also the admission in animal shelters is meanwhile no longer free of charge. Compared to the actual costs, the admission fee is rather symbolic.
Admission fee & basic examination
---
To take in an animal, the former owner pays a fee of 130 euros and has a basic medical examination done, which usually includes a blood test and ensures that no contagious diseases or epidemics can be transmitted.
After admission: settling in
All animals live with us in groups. The composition of these groups is a delicate task.
In each room we have a large aviary. These aviaries are for cats that we don't know at the beginning how they will get along with their group mates. Through the aviary they have a safe retreat in the first hours or days, but can still see and sniff each other.
The aviaries are otherwise always open.
Socialization is often necessary. Many cats today are unfortunately kept alone. Thus, some animals have never learned or in the course of time have unlearned how cats behave socially adequate. By a purposeful group mixture we try to support the new approach gently.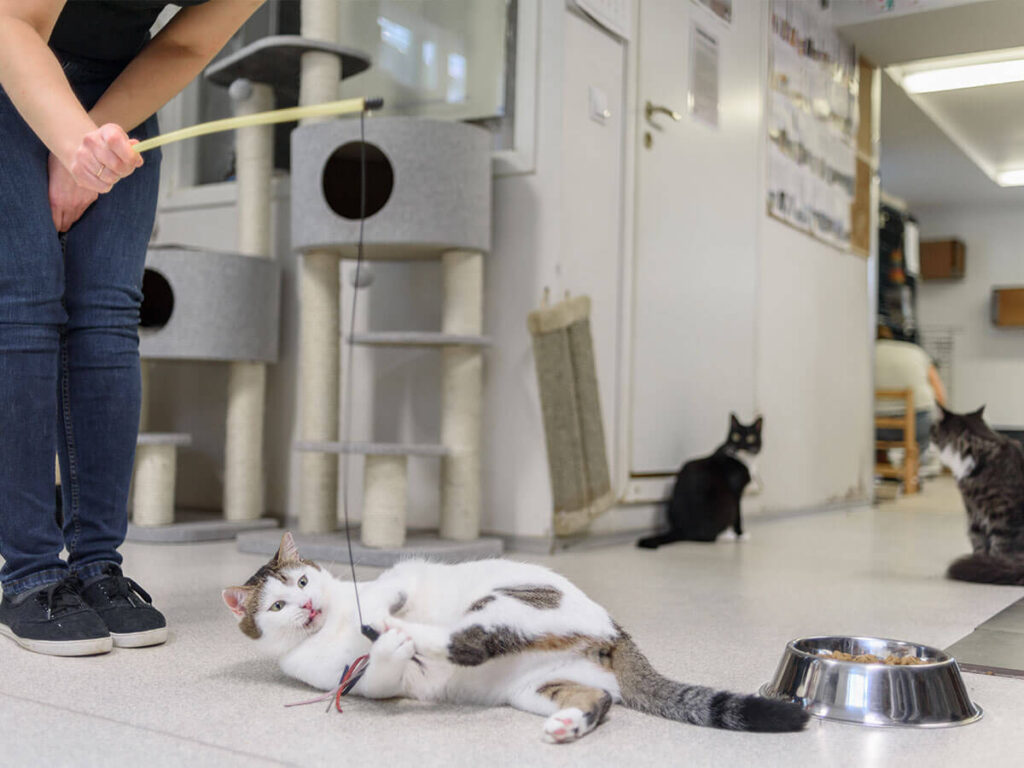 Nutrition / feed changes
We feed – as far as possible and feasible – species-appropriate canned food. This means that we serve wet food prepared from meat that is approved for human consumption.
Such feeding is met with refusal by many new admissions, as they are not familiar with such food. We then make a feed change bit by bit. In most cases, such a change is successful.
Life in the association
From the beginning we get to know each animal individually. We record behavioral traits, temperament, interaction with men, women, children, other cats, we play and cuddle. Sometimes deep friendships develop between two cats. In such cases we arrange them only together. After the familiarization and adjustment phase, nothing stands in the way of placement in a suitable new home.
We want to get to know you first
Interested parties
get to know

.
If you're in a hurry, you've come to the wrong place.
Those who are interested in placing one or more cats and contact us, come to visit us after making an appointment.
Most interested people visit us more often and get to know the animals. After two or three visits it often becomes clear where there is mutual interest. We only agree to a placement if the chosen animals also signal that there is affection.
It is very important to us that a placement is successful and lasting. Therefore we do a lot of preliminary work and explain openly and transparently to the interested party what history each animal has, which characteristics we know and how we judge its behavior. Of course, we are also interested in the ideas of the interested party.
If you are seriously interested, fill in a form about your living conditions and other questions.
The preliminary visit
We come to visit you and see if they can provide an animal-friendly environment for the cat / cats.
This includes the usual equipment, such as scratching post, litter box, sleeping and feeding places. We advise on poisonous plants, accident and injury hazards in the home and make recommendations on food and litter.
We do not re-home our cats into flats with a balcony that is not cat-safe.
It's a persistent rumour that cats don't fall off balconies. It's also a rumour that cats always fall onto their feet and won't get injured. Quite on the contrary: veterinarian practices are full of cats with internal injuries, broken limbs and torn organs that were caused by such an accident. In this regard, we don't make any exceptions.
The contract
We conclude a contract with you and you will pay an adoption fee. Depending on the age and race of the cat, the fee will be between 150 and 250 €. By signing the contract, the cat will legally become your possession but not yet your property.
The formal property rights will transfer to you after a period of 6 months. During this time, we will make another home visit.
The adoption fee doesn't reflect the costs incurred by our association. It contributes to covering the costs of the association only in a small way. These costs exceed the sum of the adoption fee many times over.
It's not a purchase price but rather a proportional share of the costs.
Please stay home on the day of re-homing. We don't want the cat to associate the stress of transport with you. Usually, there will be two of us coming to bring you your new family member (or your new family members). We will stay for a few minutes and then leave you alone to give you a chance to get to know each other in your new surroundings.
Feedback and follow-up calls
Our work doesn't end with the adoption. For one, we will carry out one more home call. However, we will always be available for advice as well. In cases of strange behaviour, illness, if you move house or if you need any other kind of advice, we will be there for you.
We are happy to get feedback from you, small anecdotes and photos that we can publish on our website.